That delay for the update of my website since the last two months! The reason is simple, the connection on my island is reduced and difficult.
I am finishing my Polynesian adventure after having spent a year and a half in this archipelago.
Overall, I have good memories of my stay but not with an extraordinary experience.
I can summarize my stay in two parts. A first positive part and a second negative one.
The upside:
to have been able to work on a group of year-round resident dolphins and to write a report (Vol 1/2: 1 to 28) and soon the second (Vol 2/2).
to be able to meet them almost every time I go out for fifteen months
the help of the team and my entourage to obtain the best result from my analysis
the swim with a humpback whale on August 08, 2010 is unforgettable; not only because we were the first to meet it and the only ones to approach it under water
to see my first sharks, manta rays, other kinds of rays, multicolored fish and other
to meet interesting locals and people from elsewhere, to learn about their cultures, traditions, winds and sea conditions
to have discovered a unique place for divers and enthusiasts

to live on an atoll in a paradisiacal setting lost at the end of the world and a very high temperature during the four seasons

to have taught diving to my vahine (spouse), so that she could replace me during my injury and to know my work in a new place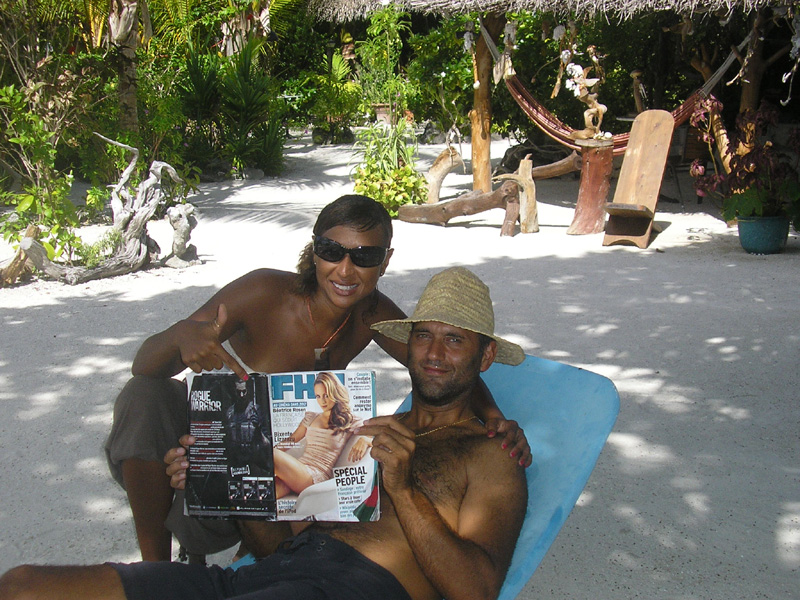 The downside:
to have been absent during my mom's cancer (the distance is great)
for not being able to stay until the end of February 2010 in order to do two years of study on the group of dolphins and to close the loop
not to have seen a mixed population but divided between the locals and the others (whites, Asians...)
to feel a people colonized by the whites
the extremely high cost of living!
to hurt my knee, interrupt myself for four months and undergo a surgical operation in an old hospital!
sometimes only having conversations about drinking, diving or fishing
not to have organized activities on the atoll and end up being bored by its isolation
to know an unstable, small, stressful, tiring company managed by an incorrect manager
a strange mentality of people in a village context
to have experienced my second cyclone two days before my departure!
I will work on my analysis to write my second report later this year. I will have more time during the winter. The method was different and faster, the goal being to get a better result and to improve.
My adventure is rich in teaching and challenges. The archipelago of Polynesia (5 archipelagos in all, on an area as vast as Europe) is immense, and unfortunately, there is not enough time to visit them all. I am not sure to come back, unless an interesting professional opportunity arises in my field. In the future, if I want to return to the islands, I would choose a destination closer to Europe, less than eight hours by plane. I already have my idea.
Now, the year 2010 is busy, first I have to regularize my immigration situation with the Canadian government, go to the Canadian North for whales (see my team in the village "Les Escoumins") in June, then return to France for a wedding in September.
See you soon. Bye.

Transit Los Angeles - MontrealFebruary 2010


Julien Marchal